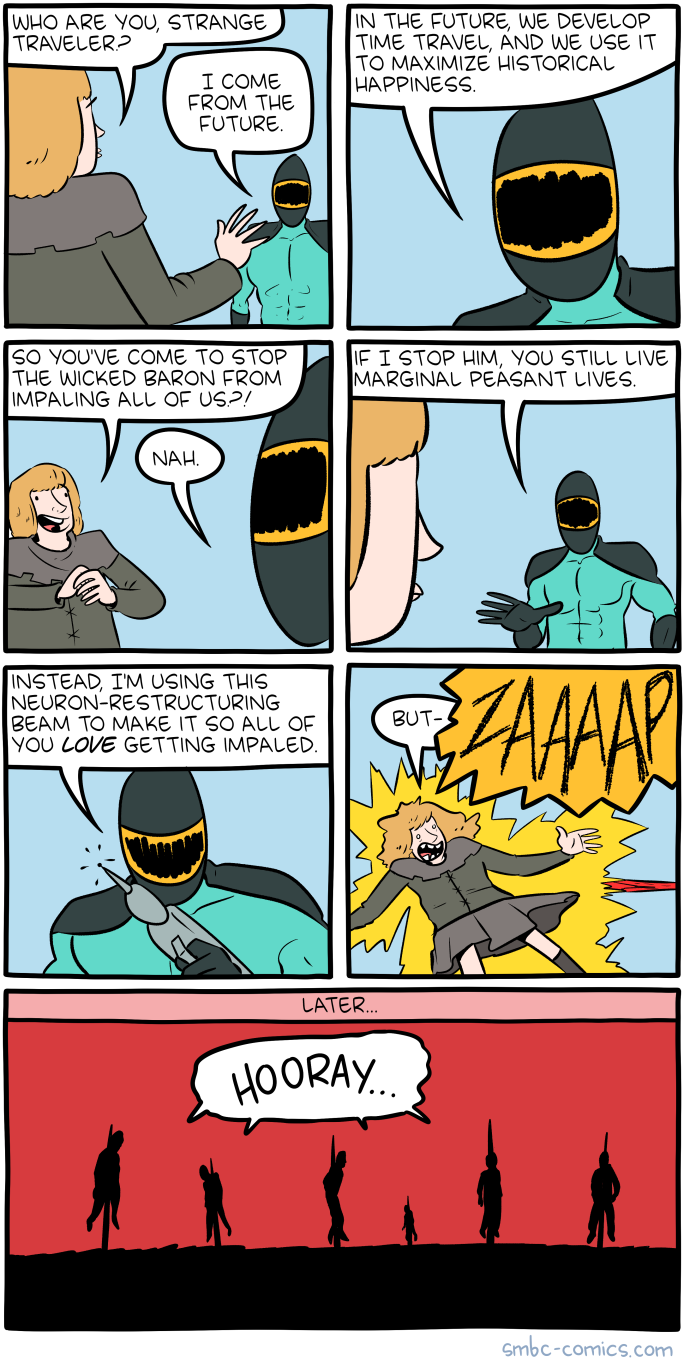 from Saturday Morning Breakfast Cereal (click through for the hovertext and red button caption)
Greg Egan in his novel Incandescence posits an alien civilization whose ancestors, in order to survive, establish a series of space habitats.  In order to ensure their descendants will be happy, they bioengineer those descendants to feel satisfaction and bliss working within and maintaining the habitat.  In order to ensure their happiness in such a limited environment, they remove or minimize curiosity from the average inhabitant.
But in order to ensure that the occasional dangerous situation can be handled, they arrange for a few individuals in each generation to have curiosity.  In most generations, these individuals are miserable outcasts, but when their attributes are needed, they're saviors.  The novel shows us a generation where the curious individuals become leaders and save the world (the habitat), and another where the one curious individual is desperately lonely and unhappy.
I often wondered if this type of survival would be worth it.  The aliens had removed just about everything that made them…them, in order to ensure that some version of their species continued to survive, with only the occasional lonely individual retaining some part of their scientific curiosity.
At some point, we may develop the ability to reprogram ourselves, to control what makes us happy.  The question is, is happiness achieved this way real happiness?  Does it make a difference what kind of scenario we choose to make us happy?
For example, I could see someone deciding that reprogramming people to enjoy hard work and virtuous living is a good thing.  Presumably no one would think reprogramming people to enjoy a horrible death would be good, but if we had a situation where people were stuck in miserable lives and we could simply reprogram them to enjoy their lot, would that be ethical?  Why, or why not?
And how would this be different from a philosophy like stoicism, where people essentially will themselves to be at peace with unavoidable circumstances?